Hybrid AGM Solution
VirtualGate is the first-ever AGM solution provider that provides online and Virtual AGM solution.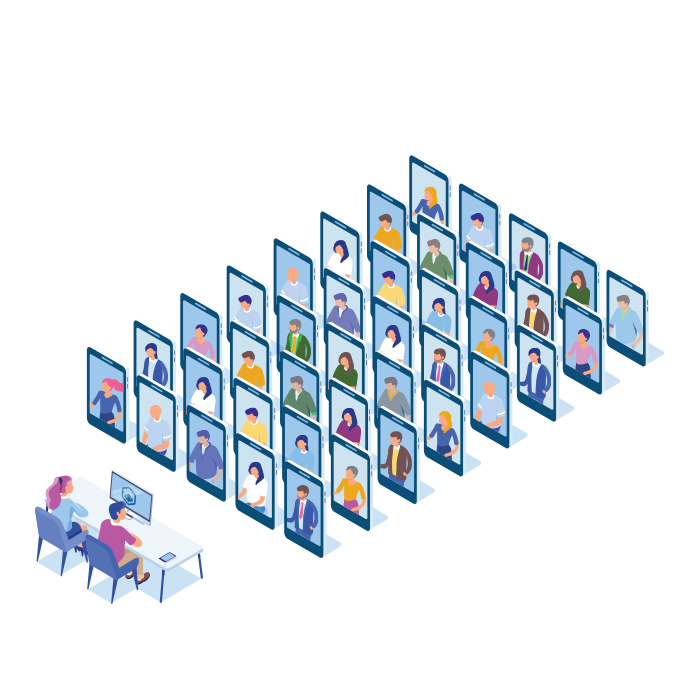 Virtual AGM
S piral World provides Virtual AGM Solutions through "VirtualGate" which most effective and Smooth experience. Also, the platform is so light and mobile responsive. Anyone can join from anywhere around the world.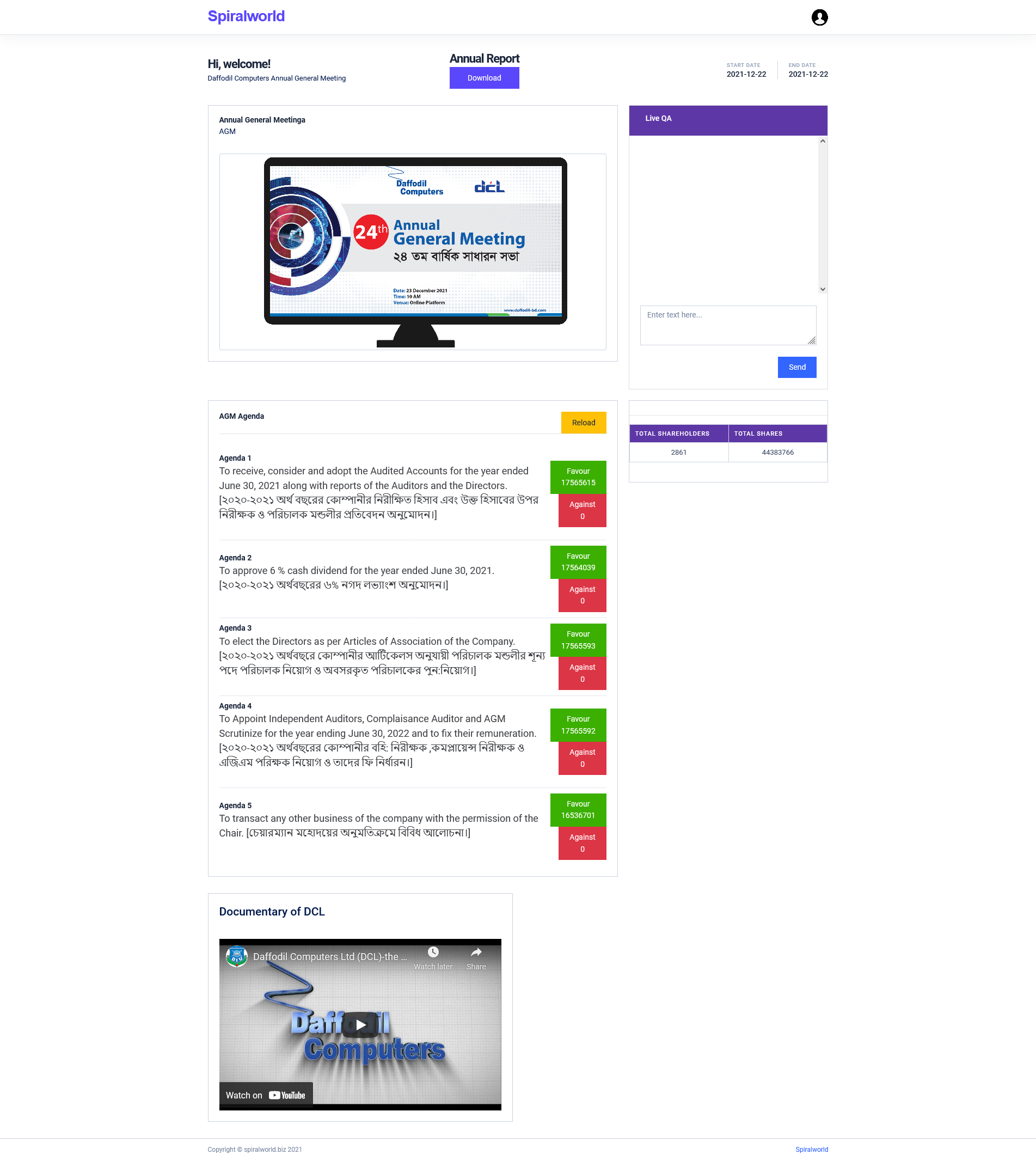 Spiral World is committed to implementing an end-to-end web-enabled Virtual AGM Management Platform to simplify the entire AGM Process from pre-to-post meetings to facilitate shareholder participation and further necessary services. Virtual AGM is to ensure all shareholders have equal access to discuss and raise any concerns they may have. The following tasks will be incorporated from pre-to-post AGM Management .

Pre-AGM Task
Prepare a shareholder's master data file with a valid email and mobile number

Ensure the Annual Report (PDF Version) is sent to the shareholder through email.

Create a Virtual Meeting Room with a specific date & time for Annual General Meeting.

Send SMS to shareholder's mobile to authenticate the validity of shareholders

Define a Host Control (Company Secretary or his nominated person) who will be managed all audiences (Participant) – verify the valid shareholder, allow to access the Virtual Meeting Room, allow to un-mute the microphone for individual speech.

Circulate the Virtual Meeting Link with a password to all Directors, Sponsors, and Shareholders through Email and SMS. Guidance of the Virtual AGM through email will be circulated.

Orientation about the Virtual Meeting through some trial sessions (3/4 times) before conducting the AGM. During the orientation, any shareholder can join to understand the new platform.

Manage the meeting room with multiple participants where remotely participants will be connected individually

Arrange a Live Streaming Process and broadcast to YouTube Channel and Facebook (Optional).

Organize the first trial meeting with the own staff in the digital format.

Prepare a Voting Platform to allow shareholders to cast all votes electronically.

Question and Comment Panel through Chat Box.

Circulate the reminder message to join the Virtual AGM through email and SMS to all Shareholders.
During the AGM Tasks

Virtual Meeting Solution to facilitate all shareholders' participation and accessible from any devices (Computer, Laptop, Tab and Smartphone).

Real-time vote casting and results should be displayed instantly.

Manage Question and Answer through the Chat Box.

Release the Live Streaming and broadcast to YouTube Channel and Facebook where shareholders can tune from anywhere and any device.

Capture the Audio-Visual Record – full-length of AGM Event.
Post-AGM Tasks:

Detail reports for submission of regulatory board

Attendance Register with Shareholder credential (BO ID, Name, Shares)

Agenda wise voting result with Shareholder credentials (Name, BOID)

All comments with Shareholder credential (Name, BO ID) in text form and voice form

Annual Return to RJSC (Schedule X)

Address Label for All shareholders as on record date
VirtualGate AGM Solution
We the Spiral World are one of the leading Tech industries to provide services globally. Like many other tech brands, we have transformed our business focus and are growing with the latest trends to fulfill the demands of Businesses and Institutions in the next new normal.
Spiral World has brought systems and solutions focusing on the next new normal situation so that Business and Institutions can keep their effort with virtual and hybrid movement and uninterrupted and transform their operation as per time demand.
Requirment for During AGM
Internet Bandwidth: Uninterruptible 25-30 MB from the Host Control
Uninterruptible Power Connectivity during the AGM
Necessary Devices (Laptop, PC, Tab, iPad, SmartPhone) should be available for the individual participants.
Video Background (Digital Banner) for the Virtual Meeting.
Our Latest projects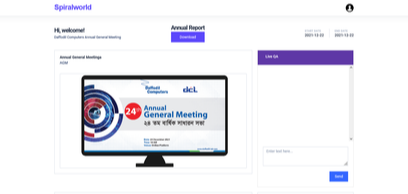 Daffodil Computers AGM
We Also offering Venues for AGM

Spiral World has so many venues for organized physical AGM and Hybrid system AGM with a full arrangement.
400 seating arrangements AUDITORIUM
We have the best space. From prestigious spaces with amazing views for when you want to impress, to well-equipped meeting facilities for when you have to make that key decision.
At a glance you can find in this venue:
400 sitting arrangements

Multimedia and inbuilt multi-sound system

Centrally air-conditioned

Fixed LED with Electricity backup

VIP, VVIP, Executive and general sitting arrangement

Well arrange and comfortable sitting arrangement

WiFi and high-speed internet
300 seating arrangements AUDITORIUM
We have the best space. From prestigious spaces with amazing views for when you want to impress, to well-equipped meeting facilities for when you have to make that key decision.
At a glance you can find in this venue:
300+ sitting arrangements

Multimedia and inbuilt multi-sound system

Centrally air-conditioned

Fixed LED with Electricity backup

Well arrange and comfortable sitting arrangement

WiFi and high-speed internet